Anthony Beal is a food blogger, WSET3 advanced wine scholar, and student of Japanese language and culture who adores Japanese cuisine and looks forward to enjoying his first meal in Osaka. To learn more about Anthony, visit his food, wine, and spirits blog, FlavorfulWorld.com.
Whether you're a professional chef, your household's elected meal-preparer, or an avid foodie who loves trying out new dishes at home, a high-quality kitchen knife is indispensable when it's time to whip up a menu masterpiece. Clean, uniform cuts can make or break a dish. This recipe for the Japanese comfort food
katsudon
owes much of its simplicity to the precision that only sharp, quality blades can deliver.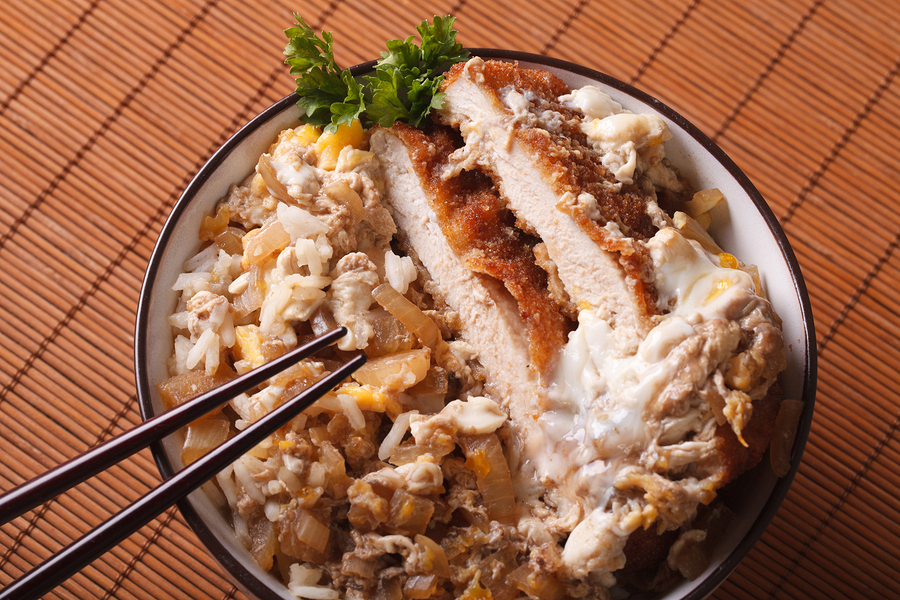 Katsudon derives its name from the combined Japanese words
tonkatsu
(breaded deep-fried pork cutlet) and
donburi
(rice bowl dish). Steamed rice is topped with tonkatsu that's been cooked in egg and a sweet-savory sauce. The result is a full-flavored dish of such enduring
popularity
that it's become a classic Japanese film trope: A hard-nosed police detective serves katsudon to an interrogation subject, an act which always elicits tearful, shamefaced confessions. More modern traditions surrounding the dish find Japanese students devouring katsudon before taking a major exam, as "katsu" is also a Japanese verb meaning "to win."
Whatever your purpose in cooking and/or serving it, with this recipe and some reliable kitchen steel, you're never more than ten easy steps away from delicious katsudon.
Ingredients
5 3- to 5-ounce boneless pork cutlets


2 ounces soy sauce


2 ounces mirin (Japanese sweet cooking rice wine)


2 tablespoon dark brown sugar


1 teaspoon dashi (Japanese bonito soup stock)


2 cups all-purpose flour


2 cups panko Japanese bread crumbs


2/3 cup water


6 eggs


1 yellow onion


2 small leeks


1/4 sheet of nori (roasted seaweed)


Vegetable oil for frying, plus 2 tablespoons
Preparation
1. Salt and pepper pork cutlets to taste. Score pork cutlets on both sides (this lessens likelihood of the meat curling or contracting during frying) by slicing diagonally at 1/2-inch intervals, to a depth of about 1/8 inch.
2. Add two tablespoons vegetable oil to saucepan over medium-high heat. Halve onion and cut each half into 1/4-inch slices. Chop leeks. Add onions and leeks to oil and cook until onions turn translucent.
3. Beat three eggs. Set aside.
4. Add soy sauce, mirin, brown sugar, dashi, and water to saucepan with onions and leeks. Reduce heat to simmer.
5. Coat both sides of each pork cutlet with flour, dredge through beaten egg, then coat each side with panko.
6. Beat the remaining three eggs in a medium-size bowl. Set aside.
7. In a separate frying pan, deep-fry pork cutlets in vegetable oil over medium heat until panko coating turns golden-brown. Let cooked pork cool for five to seven minutes, then slice into one-inch-wide strips.
8. Maintaining cutlet shapes, transfer them into simmering saucepan.
9. Pour remaining beaten egg over cutlets. Cook for one to two minutes over low heat.
10. Serve cooked egg and sliced cutlets over steamed rice. Spoon remaining sauce over dish. Julienne nori strips for garnish.
Many a Japanese restaurant menu will feature some version of this dish, but as fun as dining out can be, there's something so satisfying about making katsudon from scratch. Armed with this easy how-to and some reliable kitchen blades, you'll have everything you need to prepare this delicious yet simple Japanese comfort food in your own home.
Ready to slice, chop, and julienne your way to this great meal
and
new food-prepping heights?
Browse our selection of Japanese knives
today!